The Cromwell
LAS VEGAS, NV [2013-2014]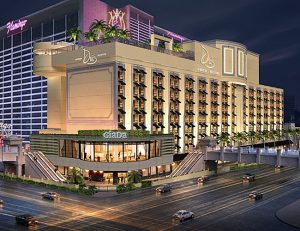 The casino now known as The Cromwell was built and opened in March 1979 at a cost of $11.5 million. In July 2005, the then Barbary Coast was bought by Boyd Gaming. In September 2005, Boyd purchased the land under the hotel for $16 million. The hotel had previously been leasing the land. In 2007, Boyd gave the Barbary Coast to Harrah's Entertainment (now Caesar's Entertainment in exchange for the 24-acre site of the demolished Westward Ho, to be used for the Echelon Place project. The Barbary Coast closed on February 27, 2007 and reopened on March 1, 2007 newly rebranded as Bill's Gamblin Hall and Saloon, in honor of company founder Bill Harrah. After nearly six years of continuous operations, Bill's closed on February 4, 2013 for complete renovation into a luxury boutique hotel. The project renovations include a gut rehabilitation of the entire property, the guest rooms and casino floor, plus additions of a new restaurant, a rooftop pool with a dayclub, a new parking structure and other site improvements.
Caesar's Entertainment has a commitment to sustainability as part of their ongoing CSR and dedicated green team – Code Green. Therefore, it was known that the project would pursue LEED equivalent certification at the project planning stage. Emphasis was placed on energy efficiency including specification of new central plant equipment and LED lighting in the hotel tower. Given the nature of a gut rehabilitation, the focus on energy efficiency was a challenge that the team is overcoming. Additional emphasis was placed on construction waste management and salvage of building materials such as doors, drywall and plumbing fixtures which were either recycled or sent to local reuse suppliers. Lastly, construction indoor air quality was emphasized. With the fast track nature of the project, the large amount of demolition and construction taking place and the number of trades on a compact site, items such as staging, protection and housekeeping were of major concern and discussed at weekly subcontractor meetings to ensure all workers on-site were following protocol and understood the importance to the project and their own well-being.
Coda Group, formerly Sellen Sustainability, served as the project LEED consultant, assisting both the design and construction teams to follow the LEED protocol for documentation. The project is currently undergoing review by the USGBC.