Escape Adventures Retail Trails
LAS VEGAS, NV [2014-2016]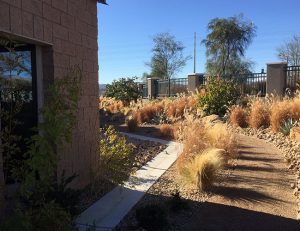 The Escape Adventures Retail Trails is a new retail core and shell development that will provide multiple retail spaces for lease. The building is a single story retail shell building totaling approximately 8500 square feet. The intent of the project is create a very energy efficient building ultimately to try and achieve a net zero building rating. The project is owned and will be operated by Escape Adventures, who also owns and operates the adjacent LEED Platinum Las Vegas Cyclery located at the SE Corner of Town Center Drive & Discovery Drive.
This project will share parking, street access, showers and other amenities with the Las Vegas Cyclery building since they are owned by the same entity who has a large commitment to sustainability. The project will incorporate solar daylighting tubes to provide daylighting throughout the retail spaces, it will also have solar panels to offset energy use and the project is being constructed out of regional, recycled content CMU blocks to offset the embodied energy of the project.
Coda Group was hired by TWC Construction to serve as the LEED consultant for this build to suit LEED Building Design and Construction, Core and Shell project which is currently under review with the USGBC. The project was complete in early 2016 and earned a LEED Gold Certification.
Architect of Record is Creative FIT.