Escape Adventures – Las Vegas Cyclery
LAS VEGAS, NV [2012-2013]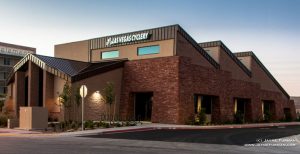 The Las Vegas Cyclery is a 9,785 square foot ultragreen bike shop on an acre of land located at Town Center Drive and Discovery Drive off Interstate 215 opened in December 2012 as a literal power plant and a shrine to energy efficiency.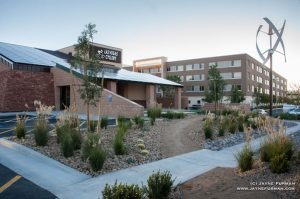 Owner Jared Fisher invested $2.8 million to open a state-of-the-art energy-efficient building in Summerlin that is engineered to add a net amount of juice to the grid thanks to energy producers such as 208 solar panels, one of the valley's few vertical wind turbines and store-powered, occupancy-sensor lighting.
The bike shop is engineered to run at 103 percent energy capacity, which means it is designed to generate 3 percent more power than what it is expected to consume during the next year. Las Vegas Cyclery will send extra power produced at the shop into the energy grid but will not receive money from NV Energy. Instead, the bike store will receive credits. The Las Vegas Cyclery did receive a one-time $80,000 rebate from NV Energy through their Renewable Generations program.
Coda Group, formerly Sellen Sustainability served as the project sustainability consultant, assisting the design and construction teams to achieve the goal of LEED Platinum and Net Zero Energy, which were both achieved in 2012.
*Coda Group served as the project LEED consultant, Creative FIT Architect of Record