Vegas Golden Knights – City of Henderson
Henderson, NV [2021-2022]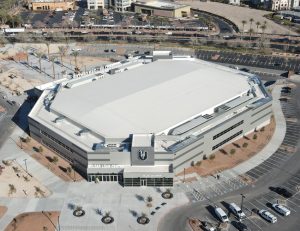 The Dollar Loan Center is an $84 million; 250,000 square feet; 6,000 seat arena complex located in the Green Valley area of Henderson. The facility will be the official home of the Henderson Silver Knights, the AFL affiliate of the Vegas Golden Knights, as well as the Vegas Knight Hawks of the Indoor Football League. The arena is also home to the Southern Nevada Sports Hall of Fame, the Craggy Range Sports Bar and Grill and a team store. Built in partnership between the Vegas Golden Knights and the City of Henderson, the design and construction team had a focus on sustainability with a focus on the energy-efficient ice making plant and recycling all the materials including concrete, steel and fabric from the demolition of the existing amphitheater that once stood on the site.
The facility has an overall energy savings of 22% from ASHRAE 90.1-2010 baseline, a 35.5% water savings and an overall construction waste management savings of 96.72%. Crews constructed the facility in 18 months with over 415,000 labor hours led by contractor Whiting-Turner Contracting Co. The Architect of Record is Klai Juba Wald with design Architect Perkins+Will.
Coda Group served as the project sustainability consultant, assisting the design and construction teams to achieve the goal of Green Globes Two Globe rating, achieved in 2022.