Davis-Monthan Air Force Base (DMAFB) Visiting Quarters (VQ)
Tucson, AZ [2012-currant]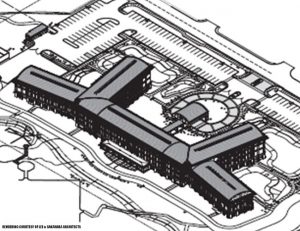 Davis-Monthan AFB is home to the 12th AF Headquarters and the 355th Wing. DMAFB is also responsible for providing initial qualifications and academic/ device training for A/OA-10, EC-130E Airborne Battlefield Command and Control Center, and EC-130H Compass Call aircraft. Also, Operation Snowbird National Guard program operates sixteen squadrons deploying for two weeks of training between October and May each year. Each deployment package consists of 10 to 12 aircraft, 20-24 pilots, and 116 support personnel. Continuous training also occurs at DMAFB for both Air Force and Navy Reserve units.
Coda Group, formerly Sellen Sustainability, is serving as the project teams LEED consultant under the project Architect – Lee & Sakahara Architects – to provide LEED expertise as well as comply with the DoD High Performance Building Standards.
With the existing lodging quarters at DMAFB cannot meet the existing demand for transient lodging and therefore DMAFB had to lodge guests off base because rooms were unavailable, therefore it was determined a new VQ would be built. By executive order, all military projects are required to be LEED Silver certified, so the requirement has been a part of the project since its inception. The entire design team has prior LEED project experience and a design charrette and follow up meetings were used to address sustainable features such as water efficient landscaping and management of stormwater through xeriscaping and minimizing any stormwater runoff through selection of HVAC equipment to maximize energy savings and selection criteria for materials and indoor air quality to ensure compliance with LEED standards during the construction phase.
The project design phase has recently completed and the project has been submitted to USGBC for the design phase review. The project is targeting a LEED for New Construction, v3 Silver certification.