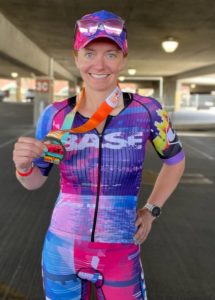 Sustainability has been a part of Jennifer's entire life, from growing up in Montana, to getting her Bachelor's degree in Environmental Design, to writing her Masters of Architecture thesis on the Phenomenology of Place, to deciding to make sustainability a key offering of Coda Group Inc. is all in line with her personal values.
Jennifer has been an advocate for sustainability since 2004 when she first learned about the LEED program and achieved her LEED Accredited Professional designation, the first person at her workplace at the time, where she then became the go to person for all of the firm's LEED projects.
In additional to her love of architecture and sustainable design, Jennifer is also an Ironman Triathlete and has a passion for outdoor activities including hiking, snowboarding, rock climbing and triathlon. If she's not in the office – you'll find her in the pool or on the road training for her next event.
Contact Jennifer