Southern Hills MOB II, Tenant Improvement- Suite 100 & 200
LAS VEGAS, NV [2013]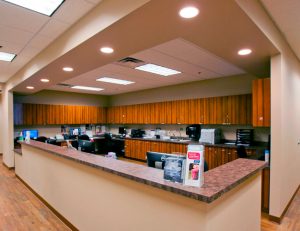 The Southern Hills tenant Improvements house a women's clinic, doctor's offices, a call center, and a large conference area for educational clinics. Before construction documents could begin Coda Group made several site visits to verify the as-built conditions and make necessary adjustments to the existing building gray shell plans.

Modifications made to the building shell included creating new openings in the existing common area walls, constructing a new corridor, and adding a new building entrance. Coda also coordinated special spatial, electrical, and data requirements for the call center and other work stations.
The project was under a tight construction schedule as the tenant was relocating from another location and required minimum disruption to their business operations. Coda worked with the contractor to meet this deadline while at the same time remaining within budget.