MTO Café, Downtown Summerlin
LAS VEGAS, NV [2014]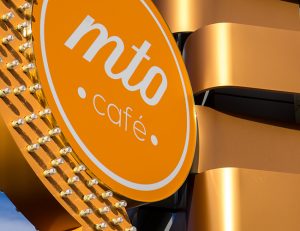 MTO Cafe is small, 2,500 sf restaurant in Downtown Summerlin that specializes in fresh comfort food. Coda worked with the restaurant owners to build upon the style and feel of their existing Downtown Las Vegas café and also included a 800 sf patio. Coda also worked with the owners to chose furniture, artwork, materials, signage and décor. The result was an interior that is modern and refined yet comfortable.
As the architect for this project Coda and its consultants (MSA Engineering, PK Delp Structural Engineering, and Food Facilities Consultants) worked diligently to make sure this project was fast tracked to open on time and remain on budget.
Due to the shopping center still being under construction while this project was being built, Coda and its consultants were able to solve several unforeseen problems during the course of construction that did not delay the opening of the restaurant and still kept the project on budget.