Clark County Government Center Department & Services Directory
LAS VEGAS, NV [2013]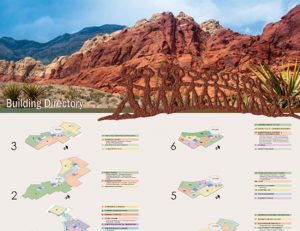 Coda Group was tasked, as part of an on-call services contract, by Clark County to create a new graphic directory to be installed near the main public entrance to the Clark County Government Center and the County Commission Chambers.

Coda met with County staff to review the functional requirements of the new building directory and to create an inventory of all existing services and departments within the Government Center.

We proposed multiple design options to the County before they selected a translucent window wrap concept. The new directory provides a list of services and departments located on each floor of the Government Center and County personnel will be reviewing the effectiveness of this new method of wayfinding through public reaction. If successful, the County hopes to replicate this design in other locations throughout the Government Center.