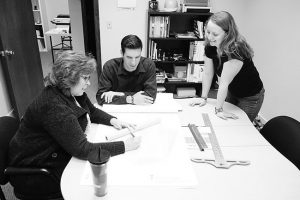 Successful architecture projects require detailed planning, advanced preparation and flexibility. The work will almost never proceed exactly according to plan. In the midst of a project, decisions have to be made about a range of trade-offs, including issues of cost and quality. Smart decisions are well-informed ones, so Coda Group Inc. uses a reliable system for tracking and analyzing project activity.
Coda Group Inc. and its principals have a vast portfolio of experience including many projects in the Las Vegas Valley working with private clients, municipalities, and everyone in between on small, energy efficient, sustainable commercial and residential projects.
Part of what has allowed us to be successful in these projects is our well-rounded staff and their experience. Since all of Coda Group's staff have experience with multiple project types, anyone within the firm can handle the project management. In addition to traditional architectural and planning services for new buildings, remodels, and tenant improvements, Coda Group Inc. can provide many other related services which can be of great value to our clients such as facilities management, interior space planning, and Building Information Modeling (BIM).
OUR ARCHITECTURE PROJECTS